On January 9th, 2014, at least 7,500 gallons of 4-methylcyclohexane methanol (MCHM) was accidentally leaked into the Elk River within the city of Charleston, West Virginia, a tributary that is the feedstock of drinking water for over 300,000 people in a nine-county area.
Company Files for Bankruptcy Protection
Kanawha Treatment Plant Chemical Spill in Charleston, WV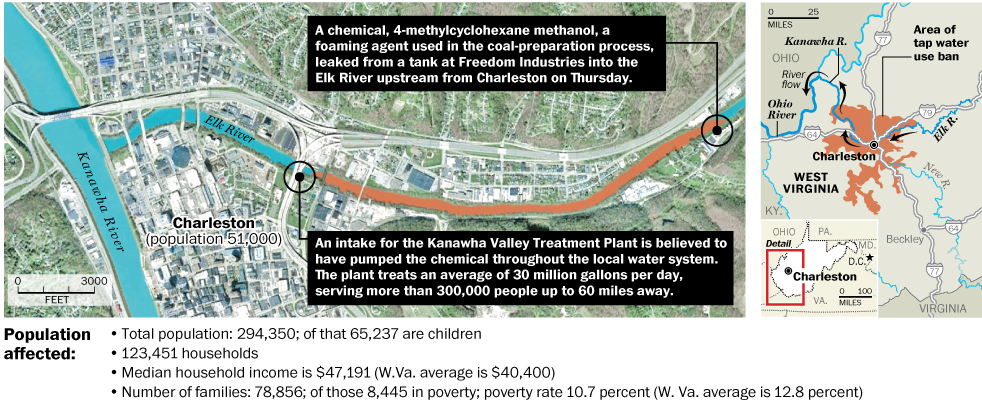 During the eleven days since the Chemical Spill in Charleston WV, the company responsible for the spill, Freedom Industries, Inc., has since filed for bankruptcy, in an attempt to protect their assets from lawsuits and to evade cleanup responsibility. In fact, the companies' website doesn't even acknowledge the incident.
Freedom Industries took several hours to notify authorities of the spill, allowing for the chemical plume to reach the drinking water treatment plant, directly downstream of the spill, distributing the toxin to the entire region of over 300,000 men, women, and children. Had the spill been known sooner, the treatment plant could've sealed off their intake pipes.
Immediately following the notification, Charleston's Kanawha Health Dept. issued a "do not use" notice to all consumers of water fed by the river, and West Virginia's governor declared a state of emergency. The "do not use" restriction has now since been lifted for almost all consumers, except for one county, which remains under the restriction, because contamination levels have spiked back up.
Still, private physicians remained wary, warning that pregnant women, young children, and those with compromised immune systems should find alternatives for drinking water.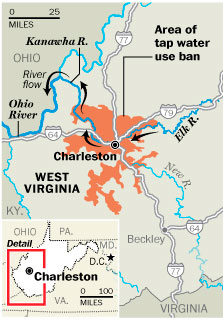 Several days ago the plume of contaminated water, has flowed from the Elk River and into the Ohio River. The city of Cincinnati has announced that it will shut down its intake valves, shutting off water to hundreds of thousands of residents there, due to the toxic threat. The plume is predicted to reach Indiana by Monday, January 20th.
The Bureau of Public Health Office of Environmental Services will continue testing until the entire system until it has been tested at, or below a 1/100th parts per million level (1/100,000,000). This is a level that the CDC considers "well below" the recommended threshold for public health, including for pregnant women. But how did the CDC come to this conclusion? There is NO human toxicity data.
CDC Opinion based on sketchy 15-Year Old Study by Industry
No independent or government toxicity studies of MCHM were ever conducted. In fact, the CDC is relying on 15-year-old studies done by the manufacturer of the chemical, Eastman Chemical. Eastman Chemical had conducted toxicity studies in minnows, rats, and rabbits, among others. One study involved 45 male rats and 50 female rats, which were force-fed pure MCHM in corn oil for four weeks. The concentrations of poison ranged roughly from 200 to 800 parts per million (ppm).
The scientists found that a small but consistent pattern of liver and kidney damage occurred in all of the rats, but appeared to be a bit worse in the females.
They then calculated, in other words, they assumed that at one-fourth the average dose 400 ppm, they would see no effect at all. It is this assumption of zero-effect at 100 ppm in rats that the CDC is using to set the zero-effect in humans at 1 ppm, although this is a far more conservative level.
In an attempt to find out just how poisonous 4-methylcyclohexane methanol was, the Eastman chemists ran another much more lethal experiment using 30 rats, half male and half female. They divided the rats into three test groups at three different doses. Ten rats received doses containing 2000 ppm of MCHM. All were dead in a day. At half that dose, 1000 ppm, 7 of the 10 rats died in less than 24 hours. At half of that dose, or 500 ppm, the survival rate went up dramatically, where it was necessary to euthanize only one female on the second day after.
Yet another study was conducted at the 500 ppm level, where no mortality of the subjects occurred, however, as already noted in the earlier study, liver and kidney damage occurred in all of the rats when poisoned as low as the 200 ppm range.
The administering of MCHM to the test subjects, at all levels of concentration showed that the animals had suffered greatly, and were harmed irreversibly.
So, what is the acceptable level of MCHM in YOUR Drinking Water? There should be absolutely NO MCHM in your drinking water!
In the age of toxicity, the only way to assure that you're drinking clean water is to install your own Home Water Filter System.
Which of the best Residential Reverse Osmosis Systems will remove a wide range of chemical contaminants from your drinking water?
---