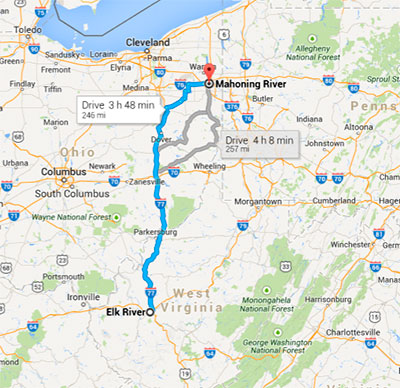 The state of Ohio has become a major destination for many millions of gallons of toxic fracking waste that's generated during hydraulic fracturing operations in the eastern U.S. Now it's been discovered that Ohio's "representatives" are allowing 60,000 gallons of contaminated water from West Virginia's chemical spill from January 2014. The toxic water will be trucked over the roadways.
Large amounts of two very dangerous, highly toxic chemicals, 4-Methylcyclohexane-methanol (MCHM) and Polyglycol (PPH) were leaked into the water supply of the West Virginia area, and contaminated the water of over 300,000 residents, which closed schools and businesses for many weeks. Although citizens have been told that the water is now safe to drink, the water is still tainted with the chemicals.
Another Large Toxic Spill in Our Water
This past week, Tim Rudell, a reporter for the public radio station WKSU in Akron, Ohio learned from West Virginia's Dept. of Environmental Protection that at least 60,000 gallons of this highly toxic stew from the spill, will be brought to Ohio and injected into its injection wells near Lake Erie in Sandusky County.
Last month, the president of D&L Energy, the company running the waste wells, plead guilty to intentionally dumping contaminated fracking waste-water directly into the Mahoning River, instead of into the waste-wells, in 2012.
Public Relations Campaign to Control Public Perception
In an effort to subdue reaction and minimize the possibility of new regulations to recent earthquakes caused by the areas hydraulic fracturing operations, the Ohio Oil and Gas Association is making public relations statements designed to assure officials of their control over seismic activity. They have, however, admitted that their "understanding …is complicated," and "…not always a precise science."
It is precisely this lack of understanding, many agree, that should lead to much stricter regulations on the industry and its operations. Structural failures of injections wells are routine. From 2007 to 2012, more than 17,000 violations of over 7,000 leaking wells were found by inspectors nationally.
I've personally lost all confidence in the EPA to operate in the public's interest, and in the entire energy industries ability to tell the truth, or to empathize with the public's interest, in their quest for unfettered maximum profits.
Source:
Where Does Fracking Wastewater Go? Socioeconomic Predictors of Class II Well Placement in Ohio
---
Reverse Osmosis systems are excellent at removing contaminants from your drinking water…