Model #: RPWFE, 4.7 out of 5 stars with over 14,193 reviews.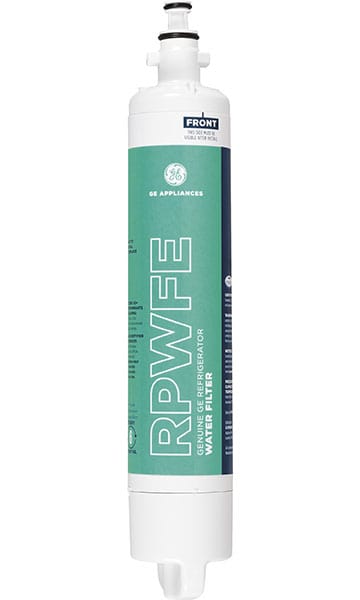 GE offers this Genuine GE refrigerator Water Filter that is certified to reduce lead by 99% and greatly reduce a wide range of contaminants.
GE's most advanced filtration
Tested and verified to reduce five trace pharmaceuticals, including: ibuprofen, progesterone, atenolol, trimethoprim & fluoxetine.* (*Contaminants or other substances removed or reduced by this water filter are not necessarily in all users' water)
GE guaranteed fit
Compatible with select GE french-door refrigerators
Removes 99% of lead from your drinking water
Industry first filter to reduce chloramines
Certified to reduce chloramines and chlorine taste and odor, for better tasting water and ice
Premium filtration
Certified to reduce chlorine-resistant cysts, lead, select pharmaceuticals and 15 other contaminants
Six-month filter life
For best filtration results, filter cartridge should be replaced every six months or 170 gallons. Replace sooner if flow rate noticeably declines
GE RPWFE Refrigerator Water Filter Spec's

Item Weight:
6.4 ounces (0.18 kg)
Product Dimensions:
9.75″lg. x 1.625″ dia. (25cm lg. x 4.13cm dia.)
Item model number:
RPWFE
Service Flow Rate:
0.5 gpm (1.9 lpm)
Item Package Quantity:
1 Water Filter
Water Filter Life:
6 months or 170 gallons (644 l)
NSF Certification:
42, 53
CSA Certification:
none
Filter Media
Carbon Block
2, 4-D Reduction:
98%
Asbestos Reduction:
99.9%
Atrazine (Herbicide) Reduction:
>97%
Benzene Reduction:
>99%
Carbofuran Reduction:
>99%
Chloramine Taste and Odor Reduction:
96.9%
Chlorine Taste and Odor Reduction:
96.9%
Cysts Reduction:
99.99%
Lead Reduction
98.85%
Lindane Reduction (A Pesticide):
>99%
Mercury Reduction:
96.3%
Nominal Particulant class 1:
91.4%
P-Dichlorobenzene Reduction:
>98%
Tetrachloroethylene:
>99%
Toxaphene Reduction:
86.95%
VOC Reduction:
99.7%
Atenolol:
95.9%
Ibuprofen
95.9%
Trimethoprim:
96.1%
Bisphenol A:
99.1%
Carbamazepine:
98.6%
Estrone:
97.1%
Nonylphenol:
97.3%
This GE Refrigerator water Filter is NSF Certified to 42 and 53 ratings:
To earn NSF certification, water filters must undergo extensive testing to confirm that they meet the strict requirements of American National Standards. NSF certification also requires filters to be re-tested periodically and re-certified each year, which ensures that they continue to meet all stated requirements over time.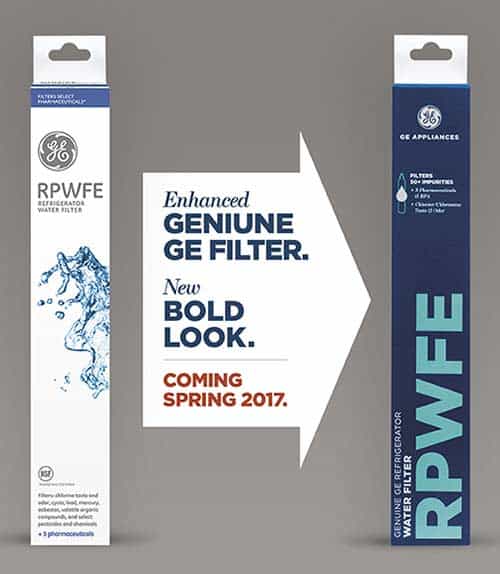 When shopping for a filter, be sure to only consider filters certified by NSF International. This independent organization certifies filters against three contaminant categories: 1). appearance and taste, 2). health concerns, and 3). New or emerging contaminants.
NSF/ANSI 42 This standard covers point-of-use (POU) and point-of-entry (POE) systems designed to reduce specific aesthetic or non-health-related contaminants such as particulates.
NSF/ANSI 53 Protects Against:
Filters that are certified to NSF/ANSI 53, will reduce a contaminant with a health effect, such as chlorine taste and odor, and Pharmaceuticals that may be present in public or private drinking water, as regulated by the U.S. Environmental Protection Agency (EPA) and Health Canada.
Both standards 42 and 53 cover adsorption/filtration which is a process that occurs when liquid, gas or dissolved/suspended matter adheres to the surface of, or in the pores of, an adsorbent media. Carbon filters are an example of this type of product.
Pharmaceutical Filtration – Claims tested and verified by an independent laboratory.
Certified by an independent laboratory to meet NSF International certification to remove 98.85% of lead. Reduction may vary based on your water's PH level.
It should be noted that: Contaminants reduced by this water filter are not necessarily in all users' water.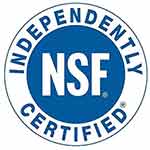 Filter Capacity and Recommended Replacement Schedule:
The general capacity for one filter is about 170 U.S. gallons (644 liters) or 6-months time, whichever comes first. Filter life depends on how much you use it and the quality of the incoming water. The flow rate is 0.5 gpm (1.89 lpm).
It's recommended that you change your GE refrigerator water filter every six months to assure clean and fresh tasting water.
My Thoughts on the GE Refrigerator Water Filter: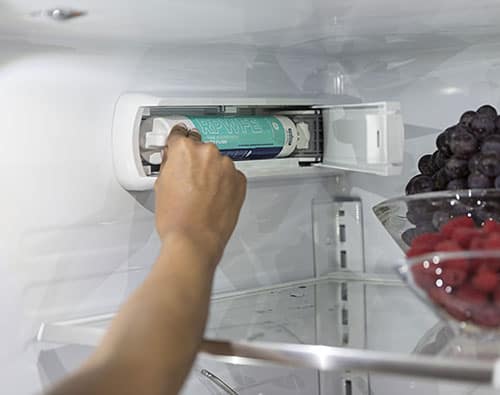 This is a genuine GE Refrigerator Water filter. General Electric has made the effort to have independent testing conducted on their filters. This gives me a sense of confidence of the effectiveness of their filters to provide me with clean drinking water. The majority of customers rate GE refrigerator water filters highly, although they do find them to be expensive.
Be very careful when searching for brand-name water filters like GE and others. The refrigerator filter industry is experiencing a flood of counterfeit refrigerator water filters from overseas.
These fake-brand filters are less expensive than the brand-name ones, so that is the attraction. I empathize with those who want to find the best value for their money and to avoid getting ripped off. If I feel that something is unfair or that I'm being scammed, I too will search out the best value too, sometimes going as far as circumventing manufacturers efforts to force me into buying their products.
I wouldn't normally be too alarmed about using alternative-brand filters, as long as they were of the same quality as the brand-name filters, but at a better price. However, those counterfeit filters have been tested and found to be largely ineffective at removing the same contaminants.
It would not be an issue if they packaged their filters as their own brands, but they're falsely branding their filters as genuine GE, Whirlpool, Kenmore, or other brand-name filters, filters which have been thoroughly tested and certified effective for removing specific contaminants.
Sellers who are advertising brand-name filters, then delivering non-brand, generic filters which are not capable of removing contaminants to the same standards, are cheating us.
Whirlpool has just recently won a major lawsuit against such a seller in March, 2019 for doing this very thing. You may read about that here.
Filter Bypass Plug
To reduce the risk of property damage due to water leakage, you MUST use the filter bypass plug when a replacement filter cartridge is not available. Some models do not come equipped with the filter bypass plug. To obtain a free bypass plug, call 800-432-2737. In Canada, call 800.561.3344. The dispenser and ice maker will not operate without either the filter or bypass plug installed. The bypass plug is installed in the same way as a filter cartridge.
Pros:
Effectively removes most suspended solids and microorganisms
Produces high-quality water.
Cons:
Won't remove dissolved organic compounds.
Conclusion:
See GE's RPWFE Refrigerator Water Filter at Amazon…
Avoid the uncertainty of getting counterfeit filters.
Order Genuine-Brand filters by visiting Sears PartsDirect…
Sears sells Genuine-Brand filters for ALL major brands. Select your make, style and filter location and it'll present you with the filters that fit your fridge. It's that easy!
---